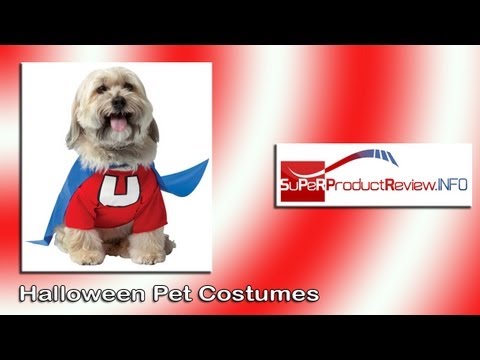 Halloween is just around the corner and fans of the season are already shopping for unique costumes in stores and online. So why should humans have all the Halloween fun? Statistics from an October 2012 report by The National Retail Federation reveal an astounding 2.2 billion dollars was spent on costumes with 11.5% of trick-or-treaters dressing their pets.
Every year, people dress their pets in the craziest Halloween costumes! Dog and cat costumes let your pets tag along to dog-friendly Halloween parties, carnival events, and fairs where costumes, characters, and make believe are the prevailing theme.
There are plenty of super hero costumes for pets including Superman, Batman and Wonder Woman. Let your cat be a show-stopper by dressing her in an Underdog costume. Have a Dachshund? Dress him in a cute "wiener dog" hotdog bun costume with your choice of catsup or mustard across your four-legged friend's back.
What dog doesn't want to channel his "inner-dinosaur" by becoming a raptor or triceratops? You gotta love the kitty dressed as a lion… roarrrrrrrrrrrrr! Have you seen the cat with a cloth saddle on her back being ridden by a mouse? Or the feline dressed like a pharaoh? Too funny.
For "crafty" people who like creating their own designs, there are sources on the Internet with loads of ideas. With a few materials and some imagination, you can make a "howling" good costume for your four-legged friend. Just keep safety first and make sure your pet isn't constrained in a way that prevents him from hearing, seeing or breathing.
Do you plan on dressing your pet for Halloween this year? What will they be wearing? Please share this article with your friends!
Check out some of the cute costumes this year's best dressed pets will be wearing in the related video! Shop for pet costumes at http://superproductreview.info/PetCostumes.