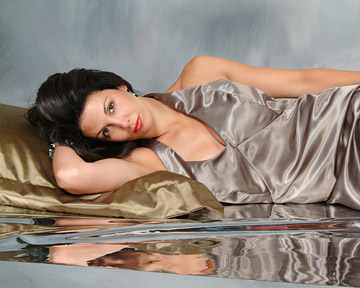 Glamour ShotZ portraits are soft, sensitive portraits of a woman for her "Special Someone."No fashion modeling experience is necessary! Almost any woman can achieve the "look" of the beautiful models seen in glamour magazines and on television with our posing guidance!
"Glamour ShotZ" portraits combine irresistible poses, outfits and the highest level of Photoshop retouching that professional models receive to accentuate their best features. Your portraits are created with a wide selection of props and backgrounds for truly exciting photographs.
You may wear your own outfits or try some of ours – there's no extra charge!
Wear a pretty, feminine dress or form-fitting jeans and a silk or satin blouse. Or really create excitement in an evening gown, mini skirt or short shorts with camisole. Or try a chemise, teddy or one or two-piece swimwear. Be as conservative or provocative as you wish!
No matter what you choose – you are sure to please your guy with this truly personalized gift!
For more information or to schedule your portrait session, please send us an inquiry or call (440) 748-6300.