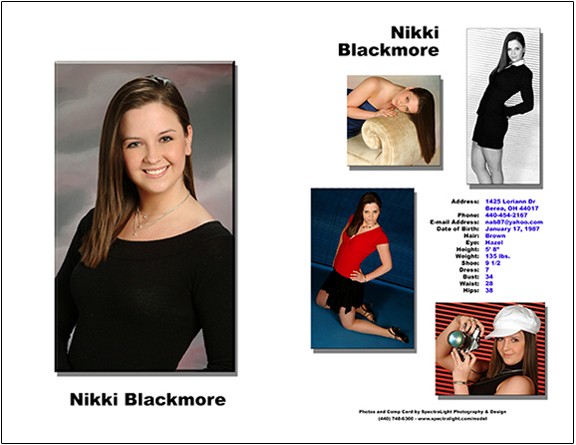 What is a Comp Card?
Comp card is short for composite card, which is used by actors and models for auditions and self-promotion. The purpose is to show as much variety as possible, so a casting director can envision the subject in different roles.
Comp cards are not just for models. Every actor should have one as well. Generally, a model's comp card is editorial (like a spread in Vogue Magazine), while an actor's comp card is lifestyle (talking on a cell phone or hailing a cab). While fashion work is reserved for models, there is plenty of print work for actors. Advertisers are always looking for attractive, everyday people to sell their products.
A comp card is just as important as a professionally taken headshot. It allows you to introduce yourself to industry professionals in a much more diverse way than with a headshot alone. It opens up an entire new avenue to generate income.
Professional Presentation
Show talent and modeling agencies and other potential clients your professionalism with well-crafted comp cards.
Card Design Fee
Comp card design includes up to five photos from your photo session (one large and four smaller) with your measurements (for models) and contact information – $49 (Printing of cards is additional – see below)
Comp cards created from OTHER photographer's portraits require a written release from that photographer to legally use their photos – $149 (Printing of cards is additional – see below)
BONUS! If you have an app of your photos created by us – we'll add your comp card to it at no charge. That's a great way to eliminate printing costs because the comp card can be printed by the agency on THEIR printer.
Discover more about our apps here.
Printing of Full Color Cards
Best Quality: Cards are printed on glossy cardstock by a four color printing company.
200 cards (8.5 x 5.5 inches with one photo featured on the front and four photos and personal info on the back) – $239 (card design is additional – see above)
Average Quality: Cards are printed on non-glossy heavy paper stock with our Xerox color printer.
10 cards (8.5 x 11 inches with a large photo on the left and four photos and personal info on the right as shown in the sample at the top of this page) – $19. Additional cards ordered at the same time – $1.59 each (card design is additional – see above)